Weight Distribution Hitches or Sway Control
Weight distribution hitches are a popular topic among the travel trailer community. But there's a bit of confusion out there about the difference between weight distribution and sway control. Let's clarify this issue first.
Weight distribution hithces only transfer the tongue weight of the trailer from the rear of the tow vehicle to the front. They do not control trailer sway.
Sway control hitches control the side to side movement in the trailer. Most sway control hitches come with weight distribution as part of the package and most, with the exception of the Hensley Arrow and PullRite, rely on the weigth distribution aspect of the hitch to aid in controlling sway.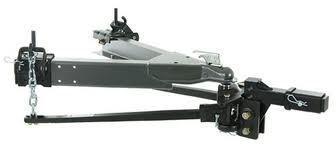 Shown is a typical weight distribution hitch without sway control.
A sway control hitch will incorporate some sort of friction adjustment at the hitch head or along the trailer frame, usually using two friction plates. Weight distribution and sway control hitches often look identical, thus the confusion. If you're buying a sway control hitch, it will be identified as such. Same with a weight distribution hitch.
Weight Distribution Bar Sizing
Once you've decide on either weight distribution hitch or sway control hitch, you'll have to decide on the size of weight distribution bar, or spring bar as they're often called. Contrary to popular belief, you don't simply match the spring bar rating to the tongue weight of the trailer. The rating on the spring bar simply specifies the maximum amount of weight distribution.
This 1000# weight distribution bar, for example, will transfer (as a pair) up to 1000 pounds of weight from the rear axle of the vehicle.
However, you may not want that much weight transfered, or you may want more, and it's not just a function of the trailer tongue weight.
There is no formula to determine exactly what you need. Here are a couple of examples:
Trailer tongue weight: 1200#
Tow vehicle: 3/4 ton short bed pick-up
Weight Distribution bar: 1000#
Trailer tongue weight: 1100#
Tow vehicle: 1/2 ton Yukon XLT
Weight distribution: 1400#
As you can see, the proper weight distribution hitch is determined by several key factors: tongue weight, tow vehicle suspension, and distance from the rear axle of the tow vehicle to the receiver. If you're unsure, ask a hitch expert (not necessarily your trailer salesman).
Weight Distribution: bigger is not better
An important point to remember is this: your weight distribution hitch also acts as a shock absorber for your trailer tongue. If you decide to buy 1400# spring bars "just to be sure," you may find yourself in for a rough ride. About 80 percent of the trailers on the road are using 1000# spring bars. Smaller trailers (under 24') typically use 800# or even 500# spring bars.
Also remember that the weight distribution hitch puts a tremendous amount of torque into your tow vehicle receiver. The heavier the bar, the more stress on the receiver.
By the way, if you're shopping for a tow vehicle and the owner's manual tells you that your warranty is voided if you use a weight distribution hitch, find another vehicle or get an aftermarket receiver. It's not much of a tow vehicle if it can't handle more than 500lbs. of tongue weight.
Be sure to read up on the different types of spring bars as well. Here's an article I posted recently on that topic.
For more information about trailer sway control hitches, click on the button below.